I like infection control and I want to know more and be able to do more. I get information from different sources that contradict each other. I want to be confident in my knowledge of what is right.
The Infection Control Educational Program for Everyone in Dentistry
Ensuring a safe dental visit is a team effort. Everyone from the dental assistant to the dental hygienist to the dental practice manager to the dentist is involved. And so are the educators, consultants, and sales representatives who sell dental infection control products and services.
With patient and provider safety on the line, the OSAP-DALE Foundation Dental Infection Prevention and Control Certificate™ was developed. This comprehensive, baseline educational program is based on federal standards and evidence-based guidelines and was developed and reviewed by experts in dental infection control – so you can trust that the information is accurate and validated.
How does it benefit me?
It can help you enhance your infection control knowledge and demonstrate your commitment to patient safety. Successful completion is an important accomplishment for those who want to boost their credibility and potential job prospects. Completing this educational program: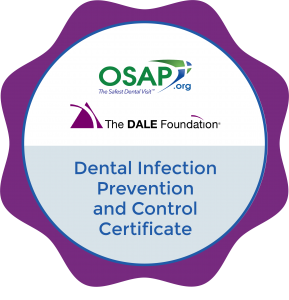 What is it?
A voluntary certificate program perfect for new and experienced dental professionals and anyone who wants to learn more about dental infection prevention and control. In addition, the program is:
Able to be completed at your own schedule in a convenient online format
Compatible with desktop, tablet, and mobile
Based on the most up-to-date content from multiple, high-quality sources with links to other sources for more advanced training
Developed from national standards and aligned to the specific educational components developed by a national dental infection control consortium of seven organizations and the CDC
*Note: Completing this educational program leads to an assessment-based certificate. This is not a certification. Learn more about the difference between a certificate program and a professional certification.
Get Started Today
To earn the OSAP-DALE Foundation Certificate, you must:
Original Price: $305
 Bundle Price $215*
You save when you buy as a part of a bundle vs. purchasing separately
Convince Your Employer
Are you interested in completing the certificate program and would like to ask your employer to provide funding to you for the program? Use our justification letter to help you make the case to your employer. Download the Justification Letter.